Unartisanal || Back to exhibition


Joy Curtis

What draws you to the materials you work with?
I came to an endpoint with three very heavy and fragile bodies of work I made, and I wanted a greater economy in materials--softer, tougher, easy to fold, transport, and store. I learned dyeing and resist processes when I was a teenager, and I worked with fiber in other ways as a young artist, so it was a return to an old medium in a new way. Working with fabric, particularly cotton duck or canvas, gives me a freer feeling. It is inexpensive, not precious, and I like the way the edges fray. I occasionally use wool felt, spandex, linen and silk organza. All of these have a certain type of edge that is acceptable to my practice from a practical and aesthetic standpoint.

Why "craft" and not "art"?
I do consider my work to be art, but I use multiple craft methods in creating it. I don't really imagine distinctions or hierarchies in how an artwork should be materially accomplished. While there is a lot of labor involved, in a sense it is "fast and dirty" because I have something I want to convey, and I will use whatever I feel works, often what is at hand or within easy reach. I consider myself a sculptor, and both craft and manufacturing processes that have nothing to do with art per se are part of the history of the medium, and I mean "medium" as a way of communicating.

In what ways are you expanding upon the realm of craft?
Because I come from an art--making background, I move craft out of its traditional uses and contexts, possibly adulterating it, resulting in something singular and specific. I hope the totality of the work results in a synthesis of many craft forms and traditional dying processes.

Is your work rooted in any specific traditions or techniques?
Yes, my work is rooted in very old plant dying processes using traditional mordants and modifiers. I also use resist dyeing processes that are common to many parts of the world, but I am most interested in Indonesian wax batik, West African adire oniko and alabare, as well as Japanese shibori. I also use the lost wax casting method and make small bronze components for many of the cloth works.

How do you navigate "craft" while avoiding popular trends?
I do not think anyone can fully avoid trends. We live in a society and are bathed in various influences that are impossible to escape. I just roll with what is interesting to me, and when it is no longer, I move on. Does that sound trendy?

Do you consider craft utilitarian, or decorative, or both/neither? Why?
Craft has a lot of meaning beyond the utilitarian and the decorative, but all of these factors are important! I think most of us want to live with things we find beautiful that are also meaningful and connect us to a culture. Craft communicates in so many ways offering culturally encoded messages. It can reveal a particular sense of touch and the hand, and can unite artisans into a collective endeavor.

Why do you think so many people are returning to fiber arts these days?
I am sure I am not alone in my practical concerns stated above. People also tend to have less space these days. Fiber is a ubiquitous medium and so much of what is incorporated into people's practices is repurposed and recycled, or innovative: for example, making cloth from algae and mushrooms. It is tied to ecological concerns, for sure. While there is an impulse to create a future we want to see, there is also an impulse to look at the past and traditional methodologies. I think this is part of a dissatisfaction with globalization and the cultural erasure that can result from rampant capitalism. Fiber arts are deeply historical and grounding.

How has the pandemic affected your practice?
Initially, it gave me more time to work and reflect, but no more. I was able to go into more detail with the extra time. It required me to become even more introspective, and I am already an introvert. I found myself reflecting more on ecology. I imagined myself woven into the landscape. I feel the way I have always felt, overall; the pandemic only made things more obvious and clear.

Unartisanal is funded in part by the New York State Council on the Arts and the New York City Department of Cultural Affairs

Unartisanal || Back to exhibition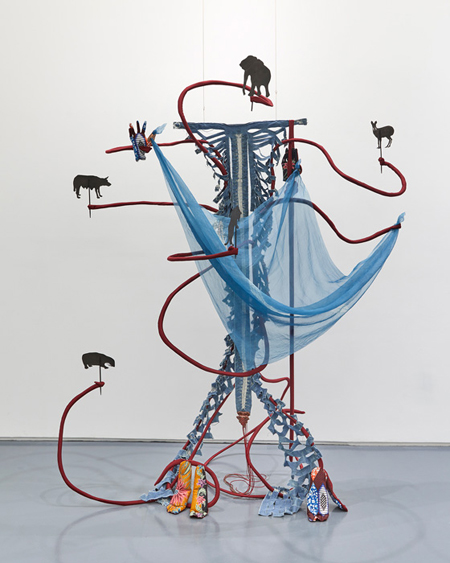 Click the image to see another.
Animal Medicine, 2020, Indigo on cotton and silk organza, Indonesian batik print and Dutch wax cloth, spandex, sumi ink on paper and wood, wax, metal, and thread, 84 x 60 x 24 inches
Plants and Animals, 2020, Osage orange, walnut, madder, cochineal, indigo, and procion dyes on cotton, rope, raffia, and sea sponges; spandex, steel, 80 x 52 x 10 inches
End of Aeon, 2019, Indigo dyed cotton duck and sea sponges, madder root using shibori resist dyeing on cotton duck, steel, 72 x 22 x 22 inches
Joy Curtis
was born in Valparaiso, Indiana, and has lived and worked in Brooklyn, NY since 2002. She received her MFA in sculpture from Ohio University in 2002. She is represented by Klaus von Nichtssagend, New York, NY, where she has had 5 solo shows. Recent exhibitions include: With Every Fiber, Pelham Art Center; Cult of the Crimson Queen, Ceysson and Bénétière; Found Outside at the Aldrich Museum (CT); Weight Over Time, T.S.A (Brooklyn); The Working Title, The Bronx River Art Center; Tensile Strength, ZieherSmith; Object 'Hood, Leslie Heller; Eternal Return, Nurture Art; The Finishers, The Wassaic Project (NY); and Greater Brooklyn, CRG. Curtis is the recipient of fellowships from Socrates Sculpture Park and the Lower Manhattan Cultural Council, and an award from the Foundation for Contemporary Arts. Her work has been reviewed in the New Yorker, Hyperallergic, Artcritical, and Saatchi Online, and featured on Gorky's Granddaughter and James Kalm's Rough Cut video blogs.